The Reading Festival lineup was leaked early yesterday afternoon, and there was only a short wait until the official announcement confirmed that it was true. A lot of naysayers are claiming that The Strokes and My Chemical Romance aren't big enough to headline, but everyone said that about Arcade Fire and Blink 182 last year and look what happened.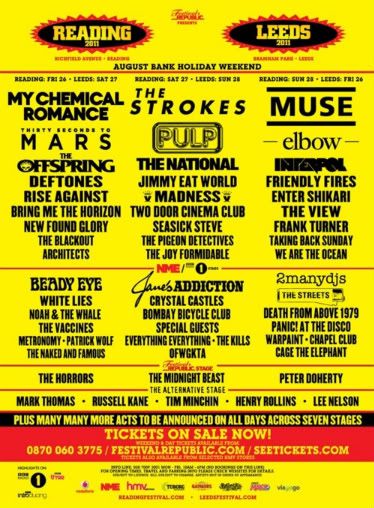 Personally I am very excited about the initial run of bands that are playing, as there are some of my favourites in there. Everyone in our camp has already agreed that The Offspring is the place to be on Friday evening! The announcements of Patrick Wolf, Death From Above 1979 and The Kills back up the predictions I had, and I'm so happy to be seeing them all again.
The best of the lineup so far:
Muse
Elbow
Friendly Fires
Enter Shikari
2manydjs
The Streets
DFA 1979
Warpaint
Chapel Club
Peter Doherty
The Strokes
Pulp
Madness
Two Door Cinema Club
The Joy Formidable
Janes Addiction
Crystal Castles
Bombay Bicycle Club
The Kills
The Offspring
White Lies
Metronomy
Patrick Wolf
The Horrors
Speaking of Death From Above 1979, they played their comeback show in a secret slot at the SXSW festival this weekend and it looked insane. Check out the footage below for the riots and massive crowds of people who tried unsuccessfully to get in.