Hey kids, it's blog time again. I've been super busy since Halloween so I haven't even gotten my photos off my camera yet, but I will say that it was an awesome party and the cakes turned out well. Have a strange photo to tide you over for now: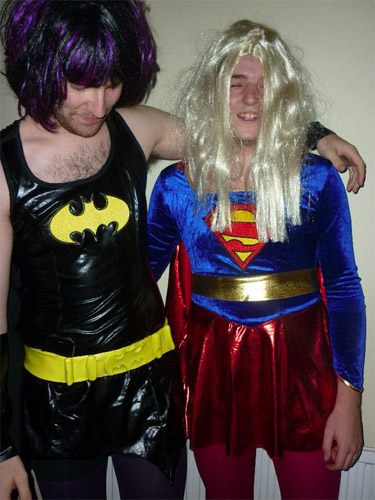 My brother (left) and his best friend (right)
Halloween night saw the Eighties Matchbox B-Line Disaster gig at Heaven, and I actually half considered not going as I was so tired from the previous night. The support acts were a strange motley crew of bands, with the first band Arrows of Love being pretty good but only playing to about 3 people, the second I can't even remember their name and the third was a surprisingly dire Robots In Disguise. If you know me at all, you will know that Robots are one of my favourite bands, but their whole set just felt very lacklustre and I couldn't even be bothered to sing along. I'm not sure if it was my own tiredness, the crowd's lack of enthusiasm or a rubbish performance but either way I was disappointed.
Luckily Eighties Matchbox put in a stellar performance which woke me up and had me thrashing away on the barrier with the rest of the crowd. It was such a sweaty, intense atmosphere that the bands facepaint had melted away halfway through the first song. The security guard in front of me looked like he was having the time of his life, and kept saying "You're all mental, it's brilliant" as he hauled crowdsurfer after crowdsurfer over the barrier. The setlist was a mishmash of older and newer tracks, although I was disappointed that In The Garden got overlooked. Another brilliant night with Eighties Matchbox, and I even had Guy hand me his setlist!
On Tuesday I finally had the fortune of attending a recording of Never Mind The Buzzcocks. I had figured out that the guest hosts remaining for the final three episodes were Tim Westwood, Frankie Boyle and Robert Webb and we were praying to every deity that it wouldn't be Tim. How unlucky we were! I don't think I have ever seen a more unfunny person in my life. Luckily the guests were vaguely funny, and Phil and Noel more than made up for it. I'm curious to see how it ends up being edited together, as it seemed so patchy and not very cohesive. It was still a good free night though, even with the tube strike starting and having to battle buses to get home.
Other than that, nothing much has been going on in my life. I have become slightly obsessed with Bearbricks though. I never liked them much (not keen on the shape and I prefer the artist based designs of Qees) but I've been on a quest to get the Spock Bearbrick from Series 19, and have ended up with quite a few others, including the awesome Iron Man one! May do some photos of them soon.
You can follow any responses to this entry through the RSS 2.0 Responses are currently closed, but you can trackback.