I went to see Carl Barat last night at the Scala on his first solo tour in support of his new album. I went with my mum, who is a massive fan, and my stepdad, which was quite nice as it meant I got free drinks! Carl was supported by a band called Swimming, who we only caught the last few songs of, and The Heartbreaks who I predict big things for.
When Carl finally took to the stage at 9:30pm, he looked incredibly nervous and mumbled his introductions before starting off with 'Je Regrette'. It took a few songs for him to get into his stride, and although he had the backing of a large band he still looked quite uncomfortable during the gig. The crowd were loving every moment though, and managed to sing the words to most of the album despite it only being released a few weeks ago.
Carl played pretty much the album in it's entirety, and peppered the setlist with Libertines and Dirty Pretty Things songs which went down a treat with the ravenous audience. The encore opened with two acoustic songs, including a sublime version of 'France', and then continued with a further three songs before ending on the triumphant 'Don't Look Back Into The Sun'. Carl confessed that he was no good at talking at gigs and decided to just let the music speak for itself, which was fine by the bouncing, cheering audience.
The setlist was:
Je Regrette, Je Regrette
Run With The Boys
The Man Who Would Be King
Carve My Name
She's Something
Deadwood
The Magus
So Long, My Lover
Up The Bracket
What Have I Done
Death Fires Burn At Night
Death On The Stairs
Bang Bang You're Dead
—————————-
9 Lives
France
The Fall
Time For Heroes
Truth Begins
Don't Look Back Into The Sun
Earlier this week I got the chance to see The Social Network, which I had been looking forward to for a while. It was a really brilliant film with a great plot and an awesome soundtrack. I especially liked how they didn't dumb down the computer stuff, but didn't make it too full of technobabble either. I get so frustrated with films that show someone hacking into the US military site, tapping in a password and clicking a big flashing 'LOGIN' button. It was really enjoyable to see exactly why Facebook has become such a huge social phenonmenon, whereas sites like Myspace and Friendster have fallen by the wayside. I especially liked the use of Livejournal as the blogging medium, LJ represent 😉 I'm not sure how relevant this film will be in 10 years time though. It seems like more of a current day thing. Still a great film though, and I would highly recommend it even if you are not interested in Facebook or social networking.
This week I have also been quite busy with halloween plans, and testing my resin casts. Unfortunately the glitter didn't turn out so well this time and seems to have clumped, so in my next batch I will just mix the glitter in like before. I'll polish them up and see how salvageable they are anyway.
Unfortunately the Manics gig for tomorrow has been cancelled, but my Saturday looks to be busy. I am shopping and collecting costumes in the morning, bleaching and dying my hair after and then attempting to bake these for the halloween party: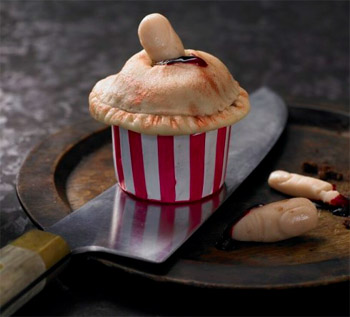 They obviously won't look quite as good! But I'll try my best. Expect lots of photos from the party, especially as my brother has an absolutely hilarious costume planned.
You can follow any responses to this entry through the RSS 2.0 Responses are currently closed, but you can trackback.